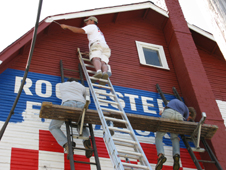 More than 100 community members turned out to help paint the Rochester Elevator on Saturday, June 6, 2009.
During the previous week, professional painters did the surface prep work, priming and painting over 10 feet above the ground. Historical society members and others from our community painted the elevator's lower portion.
Professional sign painters recreated the checkerboard sign at the elevatorís north end.
(More photos are available on the event page here.)
The cost of the painting was shared by partnering with the building owner and offset through in-kind donations of materials and services.
The event also included a barbecue and was held in conjunction with the dedication of the Rochester River Walk signage.
The elevator's current site at University Avenue and Water Street has been proposed for a city park known as Elevator Commons. The elevator structure needs to be maintained until the Rochester Elevator owner can find a buyer and the building can be rehabilitated and adaptively reused.
Whether the historic grain elevator is moved to a new location or restored it at its current location, it must be preserved for our community.
No matter who owns the building, the community owns the heritage!